Investigative journalist Khadija Ismayilova, who has written numerous hard-hitting stories on corruption in Azerbaijan, was sentenced Tuesday to seven and a half years in prison by the Azerbaijani authorities.

The popular reporter, who worked for Radio Free Europe/Radio Liberty and was a senior investigator for OCCRP, was convicted on charges of embezzlement, running an illegal business, tax evasion and abuse of power.
Ismayilova insists she is being imprisoned for her investigative work and that the charges lodged against her are fabricated, an assessment backed by civil society groups and media freedom organizations.
Her journalism for OCCRP, Radio Free Europe/Radio Liberty and other press organs included major exposes of graft and improper business links of those in the close circle of Azerbaijani President Ilham Aliyev, including his family members.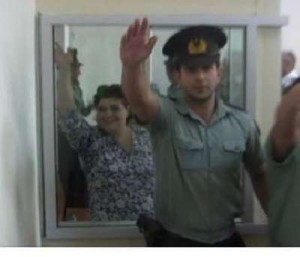 "This case was a travesty. It has more in common with the Stalin show trials than modern justice," says Drew Sullivan, editor of OCCRP. "It appears Khadija was convicted politically and not criminally for her reporting."
International organizations and government officials roundly condemned the verdict.
"This sentence strikes yet another blow to respect for human rights and adherence to democracy and the rule of law in Azerbaijan," said Nils Muižnieks, Council of Europe's commissioner for human rights.
"Khadija Ismayilova pays for her courageous work as investigative journalist in a country where critical voices are muzzled one after the other."
OCCRP's Response
As the verdict was announced, OCCRP blackened its homepage. Many media organizations including OCCRP partners and international media organizations have followed suit and the blackouts will continue throughout this week.
But that is not all. In response to Ismayilova's December arrest and ongoing pre-trial detention, in May OCCRP launched The Khadija Project to finish her work.
Says Sullivan: "If the President of Azerbaijan thinks he can stop reporters from investigating crimes by putting them in jail he is wrong. More reporters from around the world will take their place. The truth will always come out and history will rightly judge us all."
Comments
comments